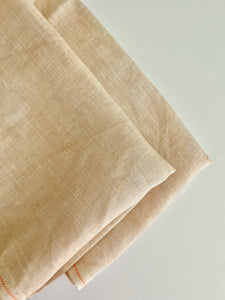 Linen "Mad Hatter's Tea Towel" from Dames of the Needle
Color: Mad Hatter's Tea Towel by Dames of the Needle
Fabric: 36 count hand-dyed linen, Zweigart base.
Approximate dimensions: 25 inches by 18 inches.
Mad Hatter's Tea Towel is a pretty, soft neutral that looks tea-colored. It would work beautifully for samplers or any project that you'd like to have a neutral background.

Size varies due to shrinkage during dyeing process.
Approximate dimensions:
Fat Quarter: 25 inches by 16.5 inches
Fat Half: 25 inches by 33 inches
Each piece of hand-dyed fabric is one of a kind. Between different dye lots, you will see variations in the shades of the colors and in the mottling. Every effort has been made to photograph the fabric accurately; however, the color may not be exact due to differences in screen displays.

If you order a quantity great than 1, each item will come as a separate cut of fabric, not continuous yardage.