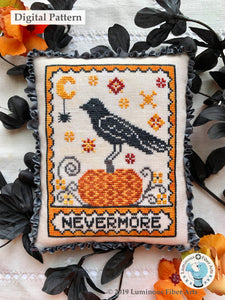 A Raven's Reply by Luminous Fiber Arts DIGITAL PDF Pattern
Ravens are a bit spooky, aren't they? Edgar Allan Poe's eerie poem, "The Raven," was the inspiration for this fun Halloween design. "A Raven's Reply" is part of my series celebrating birds. Central to the design is a mysterious raven perched on a pumpkin above its unforgettable reply, "Nevermore." A golden moon hangs in the sky with a spider suspended from it. The border is scalloped orange and black, giving the design a vintage Halloween feel. If you're looking for a fun and spooky design to decorate your home, this is the perfect project for you!

Design area: 93H x 71W
Model: Stitched using one strand of floss over two threads on 40 count Soft Porcelain linen by Luminous Fiber Arts.  Flosses used include The Gentle Art and Weeks Dye Works. Suggested DMC substitutions are given for over-dyed floss colors in parenthesis and will give a different look to the piece.
Notes: This design includes full cross stitches and back stitches.
Floss:
The Gentle Art: (may need 2 skeins for lower fabric counts): Blackboard, (1 skein each): Fragrant Cloves, Buttercrunch, Bittersweet, Uniform Blue
Weeks Dye Works: (1 skein each): Sweet Potato, Cayenne
Pattern includes conversion to DMC.
Fabric and over-dyed floss packs available as separate listings (while in stock).
This pattern is a two-page digital download of a pdf version of the pattern with color images and the chart printed in black and white.
If you prefer to purchase a printed paper copy of the pattern instead of a digital copy, printed patterns are available as a separate listing.
Due to copyright protections, I am unable to accept returns of either print or digital cross stitch patterns.
-------------------------------------------------------------------------------------
How do I access digital downloads?
1. Directly on your order confirmation page:
After checkout, on the order confirmation page, near the top, under Thank you [your name] it says in blue, "Get your downloads here…". Click on the words, they are a link.
2. By email:
After your payment has been processed (usually less than one minute), you will receive an email from Luminous Fiber Arts.
"Downloads for Order #..." includes a link directly in the email that you can click.
3. You can also go to http://luminous-fiber-arts.fetchapp.com/orders any time to access your past orders, you just need to provide your email and order number(s).