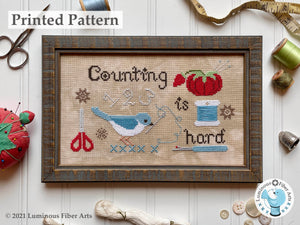 Counting Is Hard by Luminous Fiber Arts Printed Paper Pattern
It is a truth universally acknowledged that counting is hard! This little blue bird has been stitching along, blissfully unaware that she just made a counting error on her last stitch! At some point when she notices, she will be prepared because she has both scissors and a seam ripper to hand for just this type of emergency.
This is my annual bird sewing/stitching themed piece. Check out previous years' releases Sew Tweet and Savor Every Stitch.
Stitch Count: 68H x 124W
Model: Stitched using two strands of floss over two fabric threads on 32 count Sparrow linen by Luminous Fiber Arts. Suggested fabric substitutions: Picture This Plus Doubloon or Zweigart Vintage Country Mocha.
Drum finish by Faye Riggsbee. Drum supply list: Priscilla's Pretty Plaids by Riley Blake (top), Lady Dot Creates Velveteen in Chili (strawberry), Aurifil Lana 12/2 Wool/Acrylic #8089 Red (red accent thread).
Floss: DMC: 519, 347, B5200, 3021, 518, 3790, 02, 164, 221, 03, 3064, 3346
Notes: This design includes long stitches and back stitches. All stitches can be done on Aida.

Fabric available separately (while in stock).
This pattern is a high quality printed version of the pattern on cardstock with color images and the chart printed in black and white.
If you prefer to purchase a digital download of the pattern instead of a paper copy, it is a separate listing in my shop.
Due to copyright protections, I am unable to accept returns of either print or digital cross stitch patterns. If you have questions about the pattern, please contact me prior to purchasing.