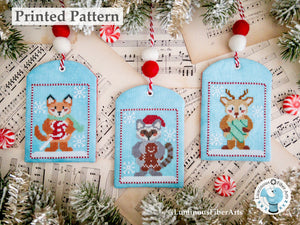 Sweet Christmas 2 by Luminous Fiber Arts Printed Paper Pattern
Do certain sweets bring back memories of Christmases past for you? Maybe you get that warm happy feeling from a favorite candy or cookie? Bask in those cozy Christmas memories as you stitch adorable animals bearing sweets!
Are you a Christmas candy or cookie person? For me, it's almond spritz cookies. Nothing takes me back to my childhood at the holidays like the smell and taste of those cookies. We used green food coloring and a cookie press to make them into Christmas trees. It turns out that reindeer love Christmas tree cookies also! Our raccoon friends delight in gingerbread cookies while foxes prefer lollipops.
Be sure to check out the companion design, Sweet Christmas 1, for more sweet animals to stitch!
Stitch Count Each Ornament: 56H x 44W
Model: Stitched using two strands of floss over two fabric threads on 32 count Soft Sea Linen by Luminous Fiber Arts.

Notes: Pattern includes some long stitches and back stitches. Some of the stitches on the bear's pom pom fall between the holes on Aida. You can adjust them or omit them altogether.

A template for the rounded-top tag shape is included in the pattern. Use the QR code in the pattern to watch the finishing tutorial on my YouTube channel.
Floss:
Classic Colorworks: Holly Berry
DMC: B5200, 04, 3866, 3776, 563, 632, 435, 422, 402, 03, 3799, 08, 347, 434, 3815, 356
Fabric and over-dyed floss available separately (while in stock). 
Red & White Baker's Twine is from Michael's. 1.5 cm wool felt pom poms in Poppy and Gardenia are from Tadaa Studio Felt.
White eyelets are standard size from We R Memory Keepers.
This listing is for a high-quality printed version of the pattern on cardstock with color images and the chart printed in black and white. 
If you prefer to purchase a digital download of the pattern instead of a paper copy, it is a separate listing in my shop.
Due to copyright protections, I am unable to accept returns of either print or digital cross stitch patterns. If you have questions about the pattern, please contact me prior to purchasing.