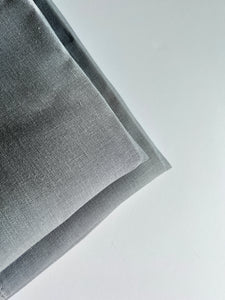 40 count Linen "Anthracite" by Zweigart
This is the perfect shade of gray! If you are looking for alternative to black for higher count stitching, this would be a great substitute.

Fabric: linen (not hand-dyed), Zweigart base.
Approximate Dimensions:
Fat Quarter: 18 x 27 inches
Fat Half: 36 x 27 inches

Choose your fabric size from the menu.
If you order a quantity great than 1, each item will come as a separate cut of fabric, not continuous yardage.
Fabric is photographed in indirect natural daylight. It may have a different appearance when viewed in artificial light (usually more yellow in tone). Every effort has been made to photograph the fabric accurately; however, the color may not be exact due to differences in screen displays. Fabric is not serged around the edges.