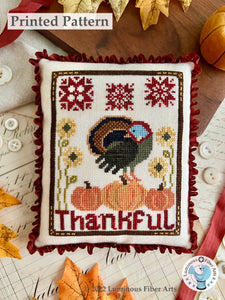 A Turkey's Thanks by Luminous Fiber Arts Printed Paper Pattern
Turkeys aren't normally cute, but at an antique shop a few years ago I came across the most adorable appliqued turkey I had seen. He became the inspiration for this design. My turkey is feeling thankful that he is so handsome, no one could bear to eat him!
A Turkey's Thanks is part of my A Bird's Series which also includes A Bluebird's Message, A Robin's Discovery, A Bluebird's Salute, A Raven's Reply, and A Cardinal's Carol.
Stitch Count: 93H x 74W
Model: Stitched using one strand of floss over two fabric threads on 40 count Soft Porcelain linen by Luminous Fiber Arts. Suggested fabric substitution: Picture This Plus Sand. Rayon ribbon is Rusty Gate from Lady Dot Creates.
Floss:
Classic Colorworks: Caterpillar, Honeycomb
Weeks Dye Works: Cayenne, Onyx
DMC: 3776, 977, 3787, 939, 733, 436, 434, 519
Pattern includes conversion to DMC.

Supplies to stitch this design are available as separate listings (while in stock).
This listing is for a high-quality printed version of the pattern on cardstock with color images and the chart printed in black and white. 
If you prefer to purchase a digital download of the pattern instead of a paper copy, it is a separate listing in my shop.
Due to copyright protections, I am unable to accept returns of either print or digital cross stitch patterns. If you have questions about the pattern, please contact me prior to purchasing.