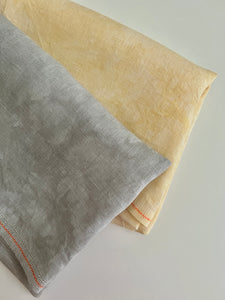 Linen "Solo" from Luminous Fiber Arts
Two options:

Solo Gold--a warm buttery yellow color
Solo Grey--a pretty warm-toned brown-grey color
Fabric: Linen hand-dyed by Luminous Fiber Arts, Zweigart base. Size varies due to shrinkage during dyeing process.

Approximate dimensions:
Fat Eighth: 12.5 inches by 16.5 inches
Fat Quarter: 25 inches by 16.5 inches

If you order a quantity great than 1, each item will come as a separate cut of fabric, not continuous yardage.
Fabric is photographed in indirect natural daylight. It may have a different appearance when viewed in artificial light (usually more yellow in tone). Every effort has been made to photograph the fabric accurately; however, the color may not be exact due to differences in screen displays. Each piece of hand-dyed fabric is one of a kind. Between different dye lots, you will see variations in the shades of the colors and in the mottling. Fabric is not serged around the edges.
I use a fixative and a hot water rinse in order to reduce the possibility of the dye bleeding from the fabric. If you need to wash your fabric, please wash in cold water and do not leave it soaking for an extended period of time.