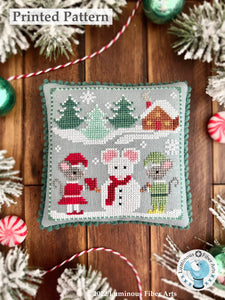 Mousecapades 3: A Snowmouse by Luminous Fiber Arts Printed Paper Pattern
In the meadow we can build a snowmouse! It's the perfect winter activity after a good snowfall. The elves are building their mouse with stick arms, a red wool scarf and mittens, coal buttons and eyes, and a pink bubble gum nose.
Mousecapades is a collection of seven adorable designs releasing throughout 2022. They can be stitched and finished separately or all together. If you would like to stitch them together, I have designed an outer border with suggested layout. You can find the complimentary PDF download for that border and layout on my website here.

Stitch Count: 61H x 61W
Model: Stitched using two strands of floss over two fabric threads on 32 count Smokey Pearl linen by Zweigart. A Fat Quarter is enough to stitch several pieces separately or all together with a 2.5-inch margin on all sides. Mini Pom Pom trim is Sequoia by Lady Dot Creates. You can get three small pillows out of one pack.
Floss:
Classic Colorworks: Lettuce Leaf, Ribbon Red, Baking Tin
Weeks Dye Works: Kentucky Bluegrass, Pecan, Holly, Roasted Figs, Emerald
DMC: B5200, 3326, 347, 729, 648, 816, 470, 310, 12, 166

Fabric, trim, and over-dyed floss packs available separately (while in stock). 
This listing is for a high-quality printed version of the pattern on cardstock with color images and the chart printed in black and white. 
If you prefer to purchase a digital download of the pattern instead of a paper copy, it is a separate listing in my shop.
Due to copyright protections, I am unable to accept returns of either print or digital cross stitch patterns. If you have questions about the pattern, please contact me prior to purchasing.