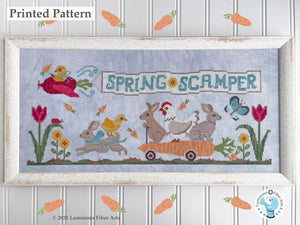 Spring Scamper by Luminous Fiber Arts Printed Paper Pattern
It's time for Spring Scamper, an annual race through the tulips to see who is the fastest animal! A bunny and chick are leaping into the lead, while their friends race to catch up in their carrot-mobile! A chick in a radish plane flies overhead towing the race banner while tossing carrots like confetti down on the competitors.
Stitch Count: 111H x 266W
Model: stitched on 32 count Snow Day linen by Luminous Fiber Arts with two strands of floss over two fabric threads.

Floss: Classic Colorworks: Spinach (2), Honeycomb; Weeks Dye Works: Capri (2), Pebble (2), Carrot, Begonia, Garnet
DMC: 3865 (2), 451, 841, 3347, 3346, 3820, 06, 838, 915, 783, 413, 747, 840, 22, 301, 3779, 918
Specialty stitches: There are some back and long stitches on the banner ties and insect antennae.

Fabric, trim, and over-dyed floss packs available as separately, while in stock.
This listing is for a high-quality printed version of the pattern on cardstock with color images and the chart printed in black and white. 
If you prefer to purchase a digital download of the pattern instead of a paper copy, it is a separate listing in my shop.
Due to copyright protections, I am unable to accept returns of either print or digital cross stitch patterns. If you have questions about the pattern, please contact me prior to purchasing.