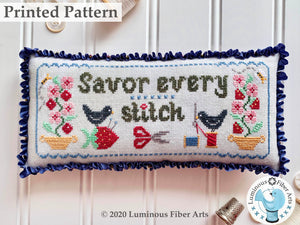 WS Savor Every Stitch by Luminous Fiber Arts
Savor Every Stitch is a sweet design featuring birds who love stitching accessories like pincushions, tapestry needles, thread, and scissors. An urn with flowers and fruit stands on each side, attracting some buzzing bees! This design is a fun way to celebrate stitching and the enjoyment that some time spent with needle and thread can bring. It's not the number of projects you have going, but the joy they bring you that matters. Includes a few easy specialty stitches.

Stitch Count: 57H x 141W
Model: 40 count Dapple linen by Picture This Plus. Rayon ribbon is Union from Lady Dot Creates.
Floss:
Weeks Dye Works: Juniper, Bluecoat Blue, Peacoat
Classic Colorworks: Sea Shelley
Gentle Art: Schoolhouse Red
DMC: 437, 913, 414, B5200, 783, 895
Pattern includes conversion to DMC.