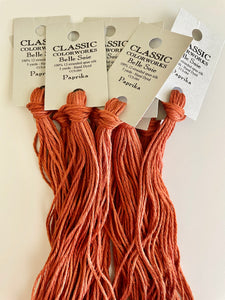 Belle Soie Paprika Over-Dyed Silk Floss
Depending on your fabric count, you'll need either one or two skeins of Classic Colorworks Belle Soie silk in Collard Greens to stitch my design Gathering Clover.

If you stitch with two strands of floss on 16/32 count or lower, please purchase two skeins.
If you stitch with one strand of floss on 18/36 count or higher, purchase one skein.

Note that silk floss is more plump than cotton floss, therefore stitchers who use 18/36 count fabric will likely be happiest using one strand rather than two.