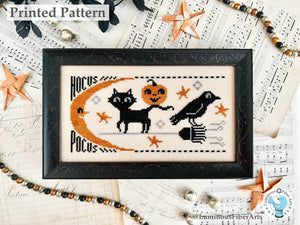 Hocus Pocus by Luminous Fiber Arts Printed Paper Pattern
Boo the Black Cat was a magical cat
Who wanted to visit the moon.
She stole an old broom from a witch's parlor room,
Then she flew through the sky, that's a fact!
With a bit of Hocus Pocus she made her flight,       
A crow in tow, and on her tail rode Jack.
Boo reached the moon in the darkness and gloom,
And made a new friend that Halloween Night!
Stitch Count: 56H x 116W
Model: Stitched using two strands of floss over two fabric threads on 32 count Antique Ivory linen by Zweigart. Over-dyed floss generously provided by Gentle Art (GAST).
I chose a black frame with hints of brown orange and a swirling pattern—I thought it looked magical--but this design would be absolutely adorable finished as a pillow. Add some black or orange rayon ribbon, mini pom poms, or chenille around the edge for a bit of extra zing!
Floss:
Gentle Art: Black Licorice (2 five-yard skeins or 1 ten-yard skein), Chalk, Moonlit Path, Pumpkin Pie
Fabric and over-dyed floss available separately, while in stock.
This listing is for a high-quality printed version of the pattern on cardstock with color images and the chart printed in black and white. 
If you prefer to purchase a digital download of the pattern instead of a paper copy, it is a separate listing in my shop.
Due to copyright protections, I am unable to accept returns of either print or digital cross stitch patterns. If you have questions about the pattern, please contact me prior to purchasing.