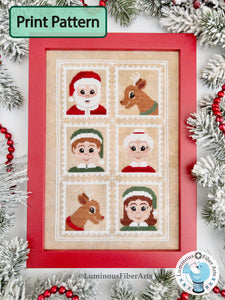 Merry Greetings by Luminous Fiber Arts Printed Paper Pattern
Merry Greetings was designed to look like postage stamps featuring the faces of your favorite Christmas characters!
If you know me, then you know that I had to make them look exceptionally cute. So, if exceptional cuteness is something you enjoy, then you'll love this design!
Stitch Count: 166H x 103W
Model: Stitched using two strands of floss over two fabric threads on 32 count Sparrow linen by Luminous Fiber Arts. Suggested fabric substitution: Picture This Plus Doubloon or Zweigart Vintage Country Mocha. 
Floss: (Pattern includes DMC conversion for over-dyed flosses)
Classic Colorworks: Black Coffee, Ribbon Red, Sunkissed

Weeks Dye Works: Hunter, Pecan*, Roasted Figs (*may need 2 skeins if using 14/28 count)

DMC: Blanc (3 skeins), Ecru, 05, 433, 758, 3064
Notes: This design includes a few back stitches. It can be stitched on any fabric, including Aida.
This pattern is a high quality printed version of the pattern on cardstock with cover in color and the chart printed in black and white.
If you prefer to purchase a digital download of the pattern instead of a paper copy, it is a separate listing in my shop.
Due to copyright protections, I am unable to accept returns of either print or digital cross stitch patterns. If you have questions about the pattern, please contact me prior to purchasing.