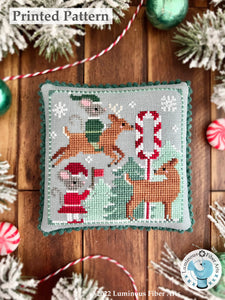 Mousecapades 4: Reindeer Games by Luminous Fiber Arts Printed Paper Pattern
Worried that his reindeer might get a little flabby in the off season, Santa invented the Reindeer Games. The reindeer train hard for months to prepare for the competition! Who will win Santa's gold medals for Fastest Flyer and Astoundingly Agile?
Mousecapades is a collection of seven adorable designs releasing throughout 2022. They can be stitched and finished separately or all together. If you would like to stitch them together, I have designed an outer border with suggested layout. You can find the complimentary PDF download for that border and layout on my website here.

Stitch Count: 61H x 61W
Model: Stitched using two strands of floss over two fabric threads on 32 count Smokey Pearl linen by Zweigart. A Fat Quarter is enough to stitch several pieces separately or all together with a 2.5-inch margin on all sides. Mini Pom Pom trim is Sequoia by Lady Dot Creates. You can get three small pillows out of one pack.
Floss:
Weeks Dye Works: Kentucky Bluegrass, Pecan, Holly, Roasted Figs, Emerald
Classic Colorworks: Lettuce Leaf, Ribbon Red, Baking Tin, Black Coffee
DMC: B5200, 3326, 347, Ecru, 3787, 816, 310
Fabric, trim, and over-dyed floss packs available separately (while in stock). 
This listing is for a high-quality printed version of the pattern on cardstock with color images and the chart printed in black and white. 
If you prefer to purchase a digital download of the pattern instead of a paper copy, it is a separate listing in my shop.
Due to copyright protections, I am unable to accept returns of either print or digital cross stitch patterns. If you have questions about the pattern, please contact me prior to purchasing.