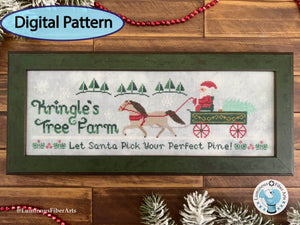 Kringle's Tree Farm by Luminous Fiber Arts DIGITAL PDF Pattern
It's the most wonderful Christmas tree farm with the most beautiful Christmas trees, owned by none other than Kris Kringle himself!
A horse-drawn wagon glides softly through the snow. Santa's riding inside along with the perfect Christmas tree that he's selected just for you! It's a magical scene that brings back happy memories of decorating for the holidays. But decorating can be a lot of work, so, "Let Santa pick your perfect pine!"
Stitch Count: 75H x 251W
Model: Fabric: 40 count Snow Day linen by Luminous Fiber Arts with one strand of floss over two fabric threads.

Floss:
Classic Colorworks: Snowball, Prairie Grass, Lettuce Leaf, Licorice Red, Pebble Beach
Weeks Dye Works: Holly
DMC: 505, 816, 3021, 832, 03, 950, 435, 3778
Suggested DMC alternatives are listed on the pattern.

Kits available separately, while in stock.
This pattern is a digital download of a pdf version of the pattern with the cover in color and the chart in black and white.
If you prefer to purchase a printed paper copy of the pattern instead of a digital copy, printed patterns are available as a separate listing.
Due to copyright protections, I am unable to accept returns of either print or digital cross stitch patterns.
-------------------------------------------------------------------------------------
How do I access digital downloads?
1. Directly on your order confirmation page:
After checkout, on the order confirmation page, near the top, under Thank you [your name] it says in blue, "Get your downloads here…". Click on the words, they are a link.
2. By email:
After your payment has been processed (usually less than one minute), you will receive an email from Luminous Fiber Arts.
"Downloads for Order #..." includes a link directly in the email that you can click.
3. You can also go to http://luminous-fiber-arts.fetchapp.com/orders any time to access your past orders, you just need to provide your email and order number(s).