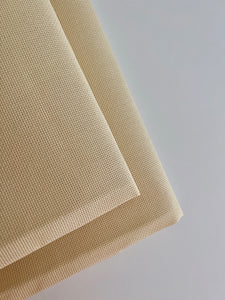 Aida "Parchment/Sand" by Zweigart
Parchment, also known as Sand, is a nice light buttery-yellow color. There is no exact DMC match, but it is closest to DMC 3033. 18 count Aida is a little more yellow, while 16 count is a has a slightly more brown tone.

Fabric: Solid (not hand-dyed) Aida, Zweigart base.
Fat Quarter Approximate Dimensions: 18 x 21.5
Fat Half Approximate Dimensions: 36 x 21.5

Every effort has been made to photograph the fabric accurately; however, the color may not be exact due to differences in screen displays. Fabric is not serged around the edges.

If you order a quantity great than 1, each item will come as a separate cut of fabric, not continuous yardage.