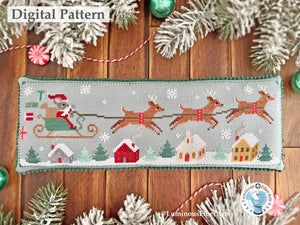 Mousecapades 7: Happy Christmas! by Luminous Fiber Arts DIGITAL PDF Pattern
It's a quiet winter's night and the village below is covered in a soft coating of snow. Santa's sleigh is laden with gifts, but he floats across the sky thanks to his magical team of reindeer! Santa and his elves have been preparing all year for this night and it's finally here!
The final installment of the Mousecapades series is here: Happy Christmas!
Mousecapades is a collection of seven adorable designs. They can be stitched and finished separately or all together. If you would like to stitch them together, I have designed an outer border with suggested layout. You can find the complimentary PDF download for that border and layout on my website here.

Stitch Count: 61H x 189W
Model: Stitched using two strands of floss over two fabric threads on 32 count Smokey Pearl linen by Zweigart. A Fat Quarter is enough to stitch several pieces separately or all together with a 2.5-inch margin on all sides. Mini Pom Pom trim is Sequoia by Lady Dot Creates. You can get three small pillows out of one pack.
Notes: Pattern includes four fractional stitches, two in the top of each church window to create an arch. These can be made as regular cross stitches, if preferred. There are also three back stitches near Rudolph's nose.
Floss:
Weeks Dye Works: Kentucky Bluegrass, Pecan, Roasted Figs
Classic Colorworks: Lettuce Leaf, Ribbon Red, Baking Tin, Blue Moon, Black Coffee
DMC: B5200, Ecru, 310, 347, 471, 648, 680, 729, 738, 793, 816, 3326, 3787, 3863
Fabric, trim, and over-dyed floss packs available separately (while in stock).

This pattern is a four-page digital download of a pdf version of the pattern with color images and the chart printed in black and white.
If you prefer to purchase a printed paper copy of the pattern instead of a digital copy, printed patterns are available as a separate listing.
Due to copyright protections, I am unable to accept returns of either print or digital cross stitch patterns.
-------------------------------------------------------------------------------------
How do I access digital downloads?
1. Directly on your order confirmation page:
After checkout, on the order confirmation page, near the top, under Thank you [your name] it says in blue, "Get your downloads here…". Click on the words, they are a link.
2. By email:
After your payment has been processed (usually less than one minute), you will receive an email from Luminous Fiber Arts.
"Downloads for Order #..." includes a link directly in the email that you can click.
3. You can also go to http://luminous-fiber-arts.fetchapp.com/orders any time to access your past orders, you just need to provide your email and order number(s).