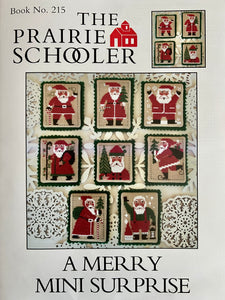 A Merry Mini Suprise #215 by Prairie Schooler
A new surprise design from retired Prairie Schooler, Pamela Byrd Smith! These short, chubby Santas are absolutely adorable! Models are stitched in six colors of DMC: White (Blanc), 407, 816, 895, 3371, 3830.

Please note that this new pattern is not printed on the cardstock used originally by the designer, but is instead on the regular printer paper that the reprints are printed on.
Due to copyright protections, I am unable to accept returns of either print or digital cross stitch patterns.