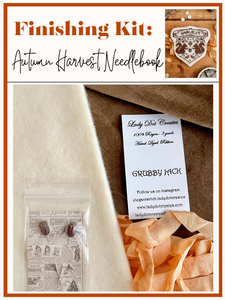 Finishing Kit: Autumn Harvest Needlebook
Pattern is sold separately.
This finishing kit includes:

--One cut custom-dyed brown Velveteen from Lady Dot Creates

--One pack Grubby Jack Rayon Ribbon from Lady Dot Creates

--One cut Snow Cream Felted Wool by Weeks Dye Works

--Two brown and gold flower pins
Please note that you will need some other supplies (e.g. sewing thread, etc.) not included in this kit. See the supply list that comes with the pattern.

Be sure to purchase the Fabric and Floss Kit available here (while supplies last).