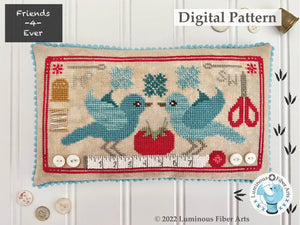 Friendship Series: Stitching Birds by Luminous Fiber Arts DIGITAL PDF Pattern
Stitching Birds honors our close bond with fellow stitchers who share our passion for needlework. Pattern includes an alphabet so you can add your initials and those of a cherished friend.
Be sure to check out other designs in the series, Playful Cats, BFF Bunnies, and Stashing Squirrels!
Note: Pattern includes some back/long stitches that fall in between stitches and would require you to pierce your fabric if you are stitching on Aida. In that case, you may prefer to omit the numbers on the tape measure and adjust the placement of one of the pins.
Stitch Count: 64H x 121W
Stitched using two strands of floss over two fabric threads on 32 count Sparrow linen by Luminous Fiber Arts. Mini pom pom trim is Polar Ice from Lady Dot Creates.

Floss:
Weeks Dye Works: Liberty, Capri, Ocean
DMC: 3810, 3865, 646, 3828, 3829, 642, 3052, 892, 3787, 3031

Pattern includes conversion to DMC.
This is a multi-page digital download of a PDF version of the pattern with color images and the chart symbols in black and white.
If you prefer to purchase a printed paper copy of the pattern instead of a digital copy, printed patterns are available as a separate listing.
Due to copyright protections, I am unable to accept returns of either print or digital cross stitch patterns.
-------------------------------------------------------------------------------------
How do I access digital downloads?
1. Directly on your order confirmation page:
After checkout, on the order confirmation page, near the top, under Thank you [your name] it says in blue, "Get your downloads here…". Click on the words, they are a link.
2. By email:
After your payment has been processed (usually less than one minute), you will receive an email from Luminous Fiber Arts.
"Downloads for Order #..." includes a link directly in the email that you can click.
3. You can also go to http://luminous-fiber-arts.fetchapp.com/orders any time to access your past orders, you just need to provide your email and order number(s).